Pou Chen celebrating 50th Anniversary with planting trees for a greener future
Pou Chen Group upholds the principle of sustainable development and community participation as its guideline. This (2019) year is 50th Anniversary of the Group, by holding voluntary reforestation activities in Taichung Metropolitan Park, located at Dadu Mountain, we hope that the primary forest which has been damaged by excessive land reclamation in past hundreds years will gradually recover. In this way, our next generation will have a chance to embrace a beautiful primary forest.
Celebrating the 50th Anniversary, Pou Chen Group continues to carry out its mission of sustainable operation and wishes to bring back forests for kids. By making an effort to improve the ecological greening of Taichung Metropolitan Park, the Group assists to nurture 112 kinds of native species which are needed for reforestation. To reconnect and establish the function of environmental ecology between downtown and outskirts, these tree seedlings will also be inhabited in Dadu Mountain community such as hillside and campus.
In June 2019, sunlight shined brilliantly on the meadow of Taichung Metropolitan Park. The CEO of Pou Chen Group, Ms. Patty Tsai with six months pregnancy, led 1,600 of Pou Chen employees to join the reforestation activates. She participated in seeds washing and planted native tree saplings which symbolize as hope together with volunteers. Mr. Chih-Hao Tsai, Chairman of Taiwan Reforestation Association, expressed that the original forest of Dadu Mountain was rooted out and cultivated into farming tableland due to its gently sloping landscaped hillside a hundred years ago. In the beginning, we were lack of resources and man power. Even a seedling place for original plants was difficult to look for. Thanks to huge support by Pou Chen Group, the Dadu Mountain reforestation project finally saw the light of day.
"I never know that planting is so much complicated!" said Mr. Lin, one of Pou Chen volunteers, "from beginning stage of research and analysis, species selection to following conservation, every stage requires expertise". Setting up a strategic alliance with public sector and research institute to develop this kind of charity event, Pou Chen has signed an MOU of "Dadu Mountain Reforestation and Ecological Greening Campaign" with Construction and Planning Agency (CPA), Ministry of the Interior and Taiwan Reforestation Association. Through landscape conservation by Taichung Metropolitan Park, research and breeding works of Taiwan Reforestation Association, together with manpower and resources that Pou Chen Group has invested in, that makes the ideal of reforestation to be realized. One of colleagues from IT Dept. shared that it was the most tiring volunteer activity that he had ever participated; however, it was one of the most meaningful experiences to him as well. Working with each other, every Pou Chen's employee was dedicating themselves to taking part in restoring the primary forest, rain or shine.
Dadu mountain reforestation project has met with enthusiastic engagement in Central Taiwan. Chenggong Ling (成功嶺) military training camp, Chingchuankang (清泉崗) air force base and the Freeway Bureau of the Ministry of Transportation and Communications have supported and participated in the project. Pou Chen is delighted to get the ball rolling, and hopes for more companies to take action to drive the effort for reforestation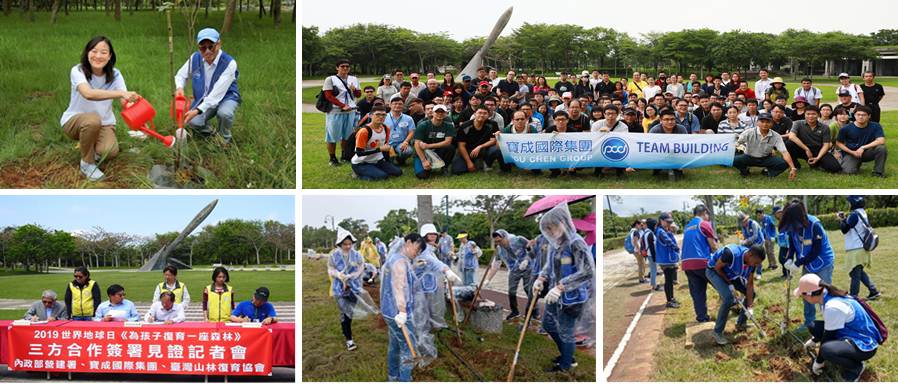 Pou Chen Group was granted FLA accreditation
Pou Chen Group joined the Fair Labor Association ("FLA") as a Participating Supplier in June 2011. The FLA and Pou Chen Group have worked closely to improve working conditions in the Group's facilities since its affiliation through independent external facility assessments and the accreditation process. Following the FLA's suggestions, the Group continues to invest in fulfilling its corporate social responsibilities, creating a friendly workplace, and establishing a reliable and well-functioning social compliance program, to comply with FLA and the Group's standards. In June 2018, FLA approved the accreditation of Pou Chen Group's social compliance program.
Pou Chen Group is a Participating Supplier of the Fair Labor Association ("FLA") and has committed to upholding the FLA Workplace Code of Conduct and Principles of Fair Labor and Responsible Souring throughout its entire supply chain. Click here to learn more.