The FLA Fair Compensation Program was recognized as a 2021 Classy Award Winner for Social Innovation
Pou Chen Group as a member of Fair Labor Association (FLA), by actively participating in various projects and upholding FLA's participating suppliers' obligations, is devoted to work with FLA and support related industry initiatives. Over 20-year history the FLA and its affiliates have made a commitment to ensuring that workers receive fair compensation. In 2016, the FLA published global wage report that aggregates data and establishes collective understanding of high risk regions and continued to engage with its stakeholders—buyers, suppliers, labor rights organizations, and universities—to improve workers' compensation. During 2018, the FLA provided wage data collection and analysis tools and dashboard and held internal communications to keep all members informed of approaches and implementation directions. In 2020, the FLA established fair compensation strategy, encouraged members to conduct data collection and analysis, and helped companies to develop actionable blueprints and to publish the commitment to fair compensation
In September, 2021, the FLA has been awarded as a 2021 Classy Awards winner for its living wage efforts for garment workers. The award honors FLA's fair compensation tools and dashboard as an innovative solution to one of the world's most pressing social problems. Currently, fifty-one of the largest global fashion companies are using these innovative tools to measure living wage progress and improve worker wages and quality of life.
《FLA Fair Compensation Project》
The definition of living wage: To ensure that workers are able to afford decent housing, meet the basic needs of themselves and their families, and accumulate some savings — all without working overtime. (Richard and Martha Anker, co-founders of the Global Living Wage Coalition)
Project Strategy: The FLA and its affiliates actively create and communicate expectations and structures that enable workers to earn fair compensation, supported by the FLA's tools, guidance, and collaborative community.
《2021 Classy Awards Introduction》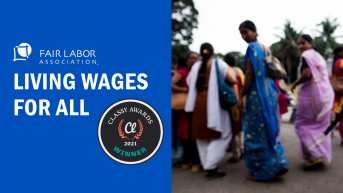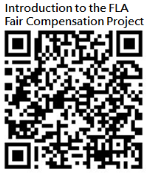 Factory and Supplier List of Pou Chen Group - Traceability and Supply Chain Transparency
In recent years, the public has paid more and more attention to the transparent information on the production, manufacturing, and transportation of products. Pou Chen Group also promises and is committed to disclose information about the Group's manufacturing factories and suppliers. In this way, we are hoping that we can work together with the suppliers to reduce the risk of forced labor and enhance both workers' rights and human rights.
Pou Chen Group has factories and suppliers located in Mainland China, Indonesia, Vietnam, Cambodia, Bangladesh and Myanmar. In order to effectively enhance public disclosure, the Group has disclosed its owned manufacturing factories information including factory name, factory location and the number of workers employed by the factory on an open and public supply chain database platform called Open Supply Hub. The supplier information which has been disclosed on the platform has been gathered by the Group, and the Group has also cooperated with those suppliers to further disclose the information such as name, location, worker information and union density of the suppliers.
In the future, Pou Chen Group will continue to update the status quo of each manufacturing factory to stakeholders.
Pou Chen supports flood relief in Indonesia and Vietnam
2020 was full of major, world-shifting events, such as the outbreak of the COVID-19, a series of forest fires, earthquakes, and frequent floods across Southeast Asia, all of them have caused devastating impacts. According to a report from Greenpeace, climate change has made extreme rainfall that results in flooding and other natural disasters, and it gets more and more severe year by year. From mid-September to early December 2020, Vietnam and Indonesia were hit by powerful storms, causing serious flooding, which have threatened the lives and properties of many residents.
In order to support flood relief, the subsidiaries and its affiliated labor unions of Yue Yuen Industrial (Holdings) Limited under Pou Chen Group located in Vietnam have cooperated with local Government Office, Motherland Front, Red Cross and other units to raise donations and promote flood relief projects, including donating provincial government disaster relief funds personally delivering supplies to residents in the affected areas, conducting impact surveys and assistance projects for employees, etc., so as to send supports and cares to the places in needed within a short time.
On November 28th 2020, Pou Chen donated a total of VND 6 billion (around USD 260,000) in disaster relief funds to Quang Binh, Quang Tri and Quang Nam provinces through the Government Office to help the post-disaster relief and reconstruction work in the central provinces of Vietnam. Mr. Mai, member of the Central Committee of the Communist Party of Vietnam and minister of the Government Office, said "Pou Chen's charitable act of sending funds and aids to the victims in the three central provinces fully demonstrates the spirit of corporate social responsibility and provides timely support to help the victims overcome the difficulties." Pou Chen's Director, Mr. Tsai shared "We are cooperating with the government office and doing our best to provide help and send condolences. We hope that everything will be out of danger and return to calm soon."
Besides of participating in government donations, the company's affiliated labor unions have raised nearly VND 2.9 billion (around USD 125,000) and sent aid funds to residents in need. Take Pou Yuen Company in Ho Chi Minh City, Vietnam as an example, during November 9th to 14th, the company's management team and Motherland Front in Binh Tan District, Vietnam carried out a six-day flood relief operation in Central Vietnam. The donations were sent directly to the disaster-stricken area. A total of about 800 households benefited, and each family received a set of distribute gifts, including 1 thermos, 1 blanket, 1 raincoat, 2 T-shirts or quilts and 2 towels.
Meanwhile, Pou Chen also launched the "Disaster Employee Assistance Project" in Vietnam. In early November, it conducted a survey on the disaster situation of employees and distributed employees' disaster relief subsidies. Mr. Fan, a employee of Pou Chen, said "This heavy rain caused landslides and flooding of more than 2.5 meters. Many people have suffered huge losses at home. I sincerely appreciate the company's quick and direct help and feel touched by the company's care for employees."
Pou Chen's subsidiaries and its affiliated labor unions in Indonesia also cooperated with the local community to deliver resources to four villages in Tambak Pasir on December 8th, including drinking water, rice, eggs, cooking oil, instant noodles and other daily necessities to help the villagers overcome the shortage and inconvenience as soon as possible. Pou Chen has long attached importance to development together with the community and provided much assistance during the flooding period, such as: community volunteer clinic and medical services to help villagers recover from the flooding and understand the importance of hygiene; or provide community construction and build garbage collection plants to avoid problems such as garbage accumulation that may cause drainage difficulties.
Pou Chen has been engaged in local community's development in Indonesia and Vietnam for nearly 30 years, and has always been committed to promoting social welfare, especially helping residents in remote areas overcome natural disasters and diseases. The global economy was hit hard by the COVID-19 pandemic. At the moment when the community is most in need of assistance, Pou Chen upholds the spirit of mutual assistance and caring, and works hand in hand with the local government and relevant authorities, with the hope of helping victims rebuild their homes and resume normal lives as soon as possible.

Pou Chen Group's Efforts in Response to COVID-19 Pandemic
The outbreak of novel coronavirus (COVID-19) pandemic has impacted on every aspect of the world. In addition to the threat to public health, it has ravaged the global economy, caused social disruption and threatens the long-term livelihoods of millions. Facing this sudden and unprecedented challenge, how to mitigate impacts on workforce, business partners, operations and general public, especially to protect the health of employees and their families, is Pou Chen Group's (the "Group") top priority.
Implementing precautionary measures to prevent the spread of virus and minimize the risks
In early 2020, at the onset of the COVID-19 crisis, Pou Chen Group formulated the Group's Management Guidelines to COVID-19, initiated classification and precautious measures immediately, followed infection control strategy which adheres to local authorities' regulations, and comprehensively considered international precaution information and voice of employees. With the continued spread of COVID-19, to ensure the health and safety of employees in all operation sites, we adopt proactive steps along with agile approach in order to contain exposure and minimize business risks. Below are some of the actions we take:
Establishing a dedicated unit: The Group immediately responded to the pandemic by establishing a group-wide committee and held several emergency meetings. By developing and announcing the Group's contingency plan for COVID-19 prevention at workplace, the headquarter leads all business units and operation sites to implement prevention measures and continuously works and communicates with local task force.
Developing daily communication: The Group conducts daily COVID-19 steering meeting to closely monitor the development of the situation, ensure timely updates, assess effectiveness of prevention measures, and implement relevant and prompt response measures at each operation sites.
Implementing contingency measures: Temperature measurement stations and disinfection area has been set at every entrance; all employees are required to go through fever screening before entering facilities and to wear face masks at workplace. To avoid mass gathering, employees are divided into different shifts; working hours are adjusted; remote work and telework is promoted; service frequency of shuttle bus has been increased and passenger capacity is limited in each vehicle. Moreover, the Group implements business travel control measures and applies preventive measures in canteen areas.
Preparing prevention materials: The Group has prepared personal protective equipment (PPE) including face masks, alcohol, infrared thermal cameras, forehead/ear thermometers, gloves, bleach and other supplies based on the number and area of the facilities. Hand sanitizer or hand washing stations have also been installed at various points of the facilities.
Enhancing environmental cleanliness: The Group takes necessary steps for disinfecting all factories and offices, including dormitories, kitchens, canteens, shuttle buses and other public areas are fully disinfected. In addition to the routine, the Group strengthens disinfection in high-risk areas.
Promoting prevention information and awareness: The Group through trainings and communications provides all employees with the correct concept of prevention measures as well as the Group's policies, processes and practices. By following authorities' prevention guidelines and regulations, we aim at awareness raising, avoiding panic and promoting personal hygiene and maintaining social distancing.
Establishing communication channels: The Group has established communication channels including WeChat, Line groups or email to express caring about the health of employees and their families, distribute prevention measures that complied with local authorities, help employees to reduce stress and anxiety associated with COVID-19, comfort and provide mental health support, report absences and abnormal events, and communicate and interact with employees timely.
Implementing tracking management mechanism: The Group establishes and implements self-reporting and health checking procedures, reports health status and contact tracing logs, and implements tracking management mechanism to prevent any potential contagion.
With regards to the above-mentioned prevention measures, governments in many regions have recognized the Group's factories as demonstration plants, adopted relevant prevention measures, and implemented in the local community.
Working together to support communities where our employees live and work
The entire world is currently preoccupied with public health issues of the COVID-19 outbreak, but given the worrying situation in recent months, many heartwarming moments are still taking place around the world. Pou Chen Group deeply understands that the assistance of various regions and enterprises is essential to the global fight against the pandemic. Therefore, the Group does its best to send concerns to places in need, and to provide resources and assistance related to prevention measures. Pou Chen Group has donated aid materials, including protective gowns, goggles, face masks, rubber boots, hand sanitizer, disinfection water, sterilization sprayers and aid funds, to hospitals or related units in Vietnam, Indonesia, and mainland China. The Group also expresses thankfulness to the healthcare workers at the frontlines, and works together with people around the world in combating COVID-19 pandemic.
Facing the risks and uncertainties brought by COVID-19, Pou Chen Group adheres to the philosophy of long-term development and sustainable operation. The Group will continue to maintain close communication with employees, business partners, local authorities and relevant units, proactively monitor the development of the pandemic, and implement prompt response measures to ensure its stable operation over the long-term.. As the Group enters to the second fifty years, it believes that working together is the key to confront the pandemic. The lessons learned from this pandemic will eventually be transformed into the nutrients for corporate growth which will continue to provide stable strength to society feedback and economic robustness.

Pou Chen Group holds a series of "the 50th annual World Earth Day" events
World Earth Day is held every year on April 22nd, which is a worldwide celebration to show support towards environmental protection. On the day, people across the globe participate in the Earth Day activities by different ways to care for the environment and protect our beautiful planet. This (2019) year marks as the 50th anniversary of World Earth Day. Yangxing Pou Jia Shoe Manufacturing Company Limited (one of the companies of Yue Yuen Industrial Holdings Limited, which is a subsidiary of Pou Chen Group), located at Hubei Province of the People's Republic of China, has held a series of activities to raise public environmental awareness and encourage people to do their parts that will help to protect the environment.
Pou Jia Company of Pou Chen Group serves as a guiding light of corporations in Yangxin County of which company that holds many community engagement activities every year, such as nursing home visits and community services. These social outreach activities have earned the recognition and high regards from the residents in local communities. Also, in response to the Earth Day theme of 2019 "Treasure beautiful planet and conserve the natural resources", Pou Chen has organized and held a series of meaningful activities on April 22nd, including carbon-reduction bike riding activity, community cleaning services and a workshop on "How to protect the environment"
In the morning of the day, Pou Chen volunteers rode bikes from Employee Service Center in the Company to Yangxin Train Station with a total distance of 7 kilometers. Upon arriving at the train station, Pou Chen volunteers opened up the World Earth Day banner and promoted ways to eco-friendly living. At teeming area of the train station square, they made an all-out effort to get the place cleaned up. The dust and fatigue caused by the cleaning exercise didn't bother any of the volunteers. They brought tongs and trash bags to remove as many pieces of rubbish, such as cigarette butts, fruit peels and papers on the sidewalks. Pou Chen volunteers brought their commitment to environmental protection into practices. Their passion and selfless act has inspired some vendors nearby to take part in the clean-up. "I saw some people come and help out the cleaning with us. I'm so moved and hope this positive energy will keep moving on forever." said Ms. Kuo, one of Pou Chen volunteers, "and this is my first time to participate in the bike riding activity. Thanks to my colleagues' support and companionship, I finished the ride over some bumpy roads. All the worries and fatigue had gone when we arrived at the destination."
Apart from bike riding and community clean-up, a workshop on "How to protect the environment" for kids was held at the Children's Activity Center. Kids learned some ways to protect the Earth in game sessions. For example, under guidance provided by Pou Chen volunteers, they are able to recite some poems related to land and environment protection fluently, such as "Hoeing the grass under the noonday sun, his sweat drips on the ground beneath the seedling. Who knows that the meal in the dish, every single grain of rice means hard work" and "Each grain of millet sown in spring, will by autumn harvest a myriad bring. Across the land no fields lie vacant, peasants still found--starving, dying." Kids realized farming consists of hard works so it is important to respect for food. Through further explaining by volunteer teachers, they have learned that reducing the consumption of water and energy is also a good way to make the world a better place. Via these activities, the teachers have planted the initial seeds for caring our planet deep into kids' heart.
In the series events of the World Earth Day, Pou Chen's employees improved the community tidiness by taking actions with all-out efforts, raised environmental awareness through their passion and bring their commitment into practices of being responsible for green ecology. To fulfill corporate social responsibility, Pou Chen will continue to carry out its mission to bring out more influences through different ways to protect the Earth.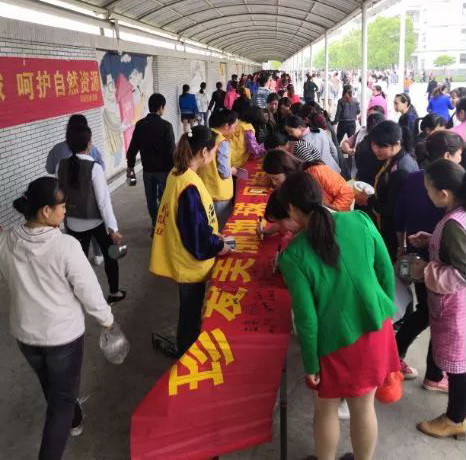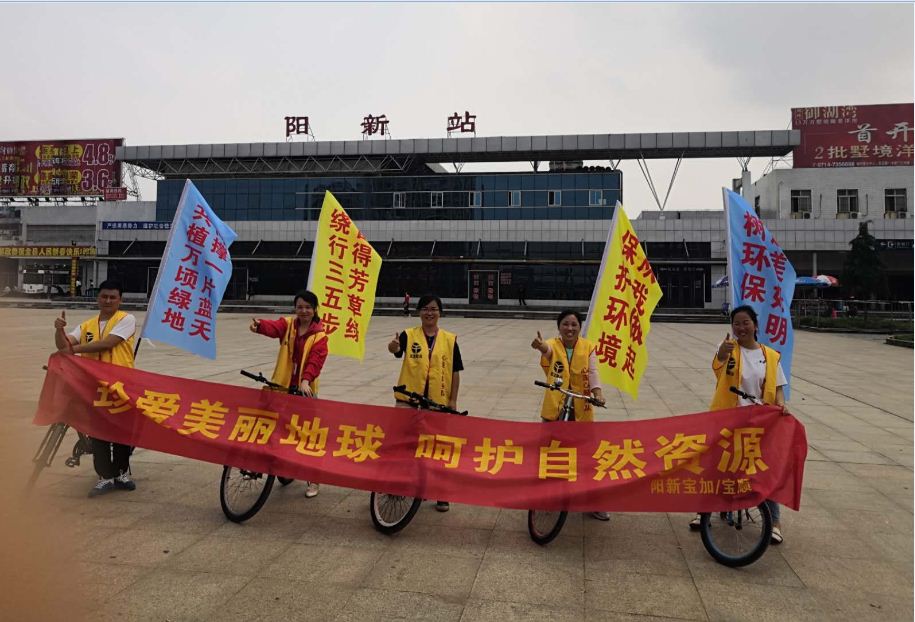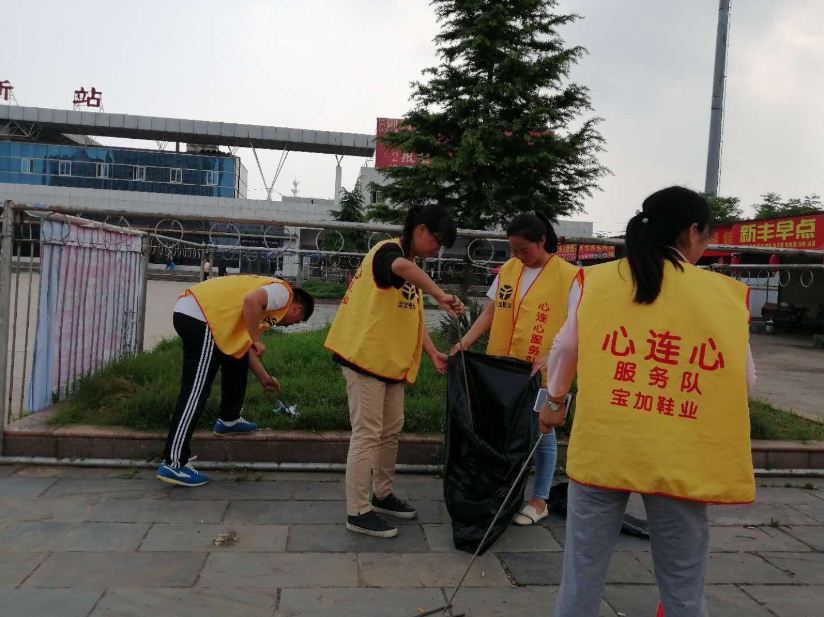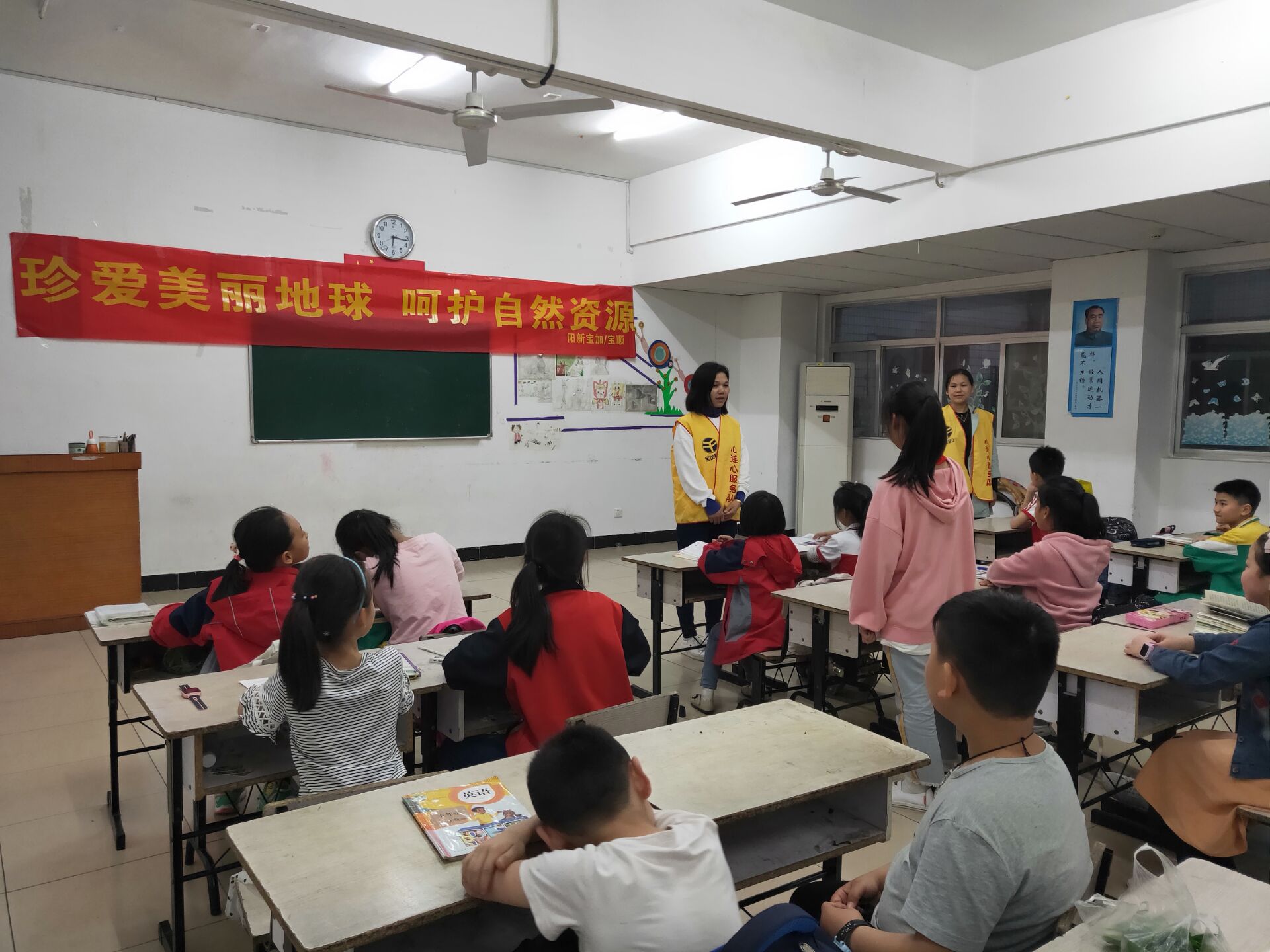 Pou Chen celebrating 50th Anniversary with planting trees for a greener future
Pou Chen Group upholds the principle of sustainable development and community participation as its guideline. This (2019) year is 50th Anniversary of the Group, by holding voluntary reforestation activities in Taichung Metropolitan Park, located at Dadu Mountain, we hope that the primary forest which has been damaged by excessive land reclamation in past hundreds years will gradually recover. In this way, our next generation will have a chance to embrace a beautiful primary forest.
Celebrating the 50th Anniversary, Pou Chen Group continues to carry out its mission of sustainable operation and wishes to bring back forests for kids. By making an effort to improve the ecological greening of Taichung Metropolitan Park, the Group assists to nurture 112 kinds of native species which are needed for reforestation. To reconnect and establish the function of environmental ecology between downtown and outskirts, these tree seedlings will also be inhabited in Dadu Mountain community such as hillside and campus.
In June 2019, sunlight shined brilliantly on the meadow of Taichung Metropolitan Park. The CEO of Pou Chen Group, Ms. Patty Tsai with six months pregnancy, led 1,600 of Pou Chen employees to join the reforestation activates. She participated in seeds washing and planted native tree saplings which symbolize as hope together with volunteers. Mr. Chih-Hao Tsai, Chairman of Taiwan Reforestation Association, expressed that the original forest of Dadu Mountain was rooted out and cultivated into farming tableland due to its gently sloping landscaped hillside a hundred years ago. In the beginning, we were lack of resources and man power. Even a seedling place for original plants was difficult to look for. Thanks to huge support by Pou Chen Group, the Dadu Mountain reforestation project finally saw the light of day.
"I never know that planting is so much complicated!" said Mr. Lin, one of Pou Chen volunteers, "from beginning stage of research and analysis, species selection to following conservation, every stage requires expertise". Setting up a strategic alliance with public sector and research institute to develop this kind of charity event, Pou Chen has signed an MOU of "Dadu Mountain Reforestation and Ecological Greening Campaign" with Construction and Planning Agency (CPA), Ministry of the Interior and Taiwan Reforestation Association. Through landscape conservation by Taichung Metropolitan Park, research and breeding works of Taiwan Reforestation Association, together with manpower and resources that Pou Chen Group has invested in, that makes the ideal of reforestation to be realized. One of colleagues from IT Dept. shared that it was the most tiring volunteer activity that he had ever participated; however, it was one of the most meaningful experiences to him as well. Working with each other, every Pou Chen's employee was dedicating themselves to taking part in restoring the primary forest, rain or shine.
Dadu mountain reforestation project has met with enthusiastic engagement in Central Taiwan. Chenggong Ling (成功嶺) military training camp, Chingchuankang (清泉崗) air force base and the Freeway Bureau of the Ministry of Transportation and Communications have supported and participated in the project. Pou Chen is delighted to get the ball rolling, and hopes for more companies to take action to drive the effort for reforestation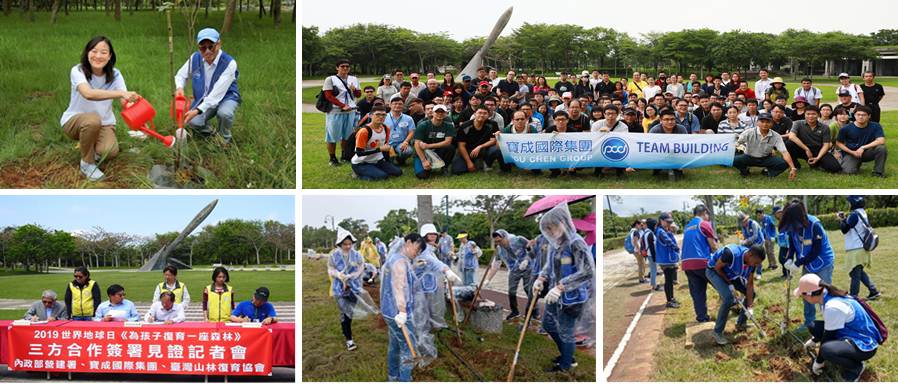 Pou Chen community service visit celebrating the lunar New Year and spreading love and caring in Vietnam
Pou Chen Group has recognized the importance of corporate social responsibility and has held many community engagement activities around the world for several years. Take Vietnam for example; by donating goods to Tien Giang Social Protection Center before 2019 lunar New Year, the elders and orphans in Social Protection Center felt warmth and happiness at heart.
Located at Tien Giang Province of Vietnam, Yue De Vietnam Company Limited is one of the companies of Yue Yuen Industrial (Holdings) Limited, which is a subsidiary of Pou Chen Corporation. Yue De has held a community service visit celebrating the lunar New Year in Vietnam on January 20, 2019. Pou Chen/Yue De has donated 46,400,000 VND (around 2,000 USD) worth of goods including 1,000 kilograms of rice, 70 cartons of instant noodles and 330 gift bags including milk powder, drinks and candies to Tien Giang Social Protection Center. In addition to distributing goods, Pou Chen volunteers also played game activities with the orphan kids. All the kids have enjoyed those games a lot as they had been looking forward to these activities for a long time. A three-year-old boy, who has received a gift from a volunteer, even reached out to the volunteer for a hug. Upon receiving the hug, a lovely smile spread on the cute little face of this boy, forming a warm and touching picture. Our volunteers understand that for disadvantaged people, they need not only the material supplies, but from the bottom of their heart, they long for love and caring, which cannot be traded off by money. Pou Chen's employees volunteering the community service visit this time outnumbered the participants we have expected, especially for those employees who live near the Social Protection Center. They were very positive in the participation of the event and realized that elders and kids in the Center need their help and caring more than they could imagine after engaging the event. They are all very interested in having more opportunities to help others and make their community a better place.
On the day of the event, in addition to visit Social Protection Center, Pou Chen also held a regular activity of visiting some employees and their family. Colleagues went to visit Ms. Kim, an employee from the department of Stock fitting, who is regarded as an "Excellent Employee" and has worked in company for more than five years. She has earned recognitions by her outstanding working performance and interaction with others. In the home visit activity, the Company presented a gift to Ms. Kim in recognition of her great performance, and also wished her and her family good health and a happy New Year. With the warmth and care expressed by the company and colleagues, Ms. Kim felt very much encouraged and motivated to work harder and contribute her efforts to the better development of the company.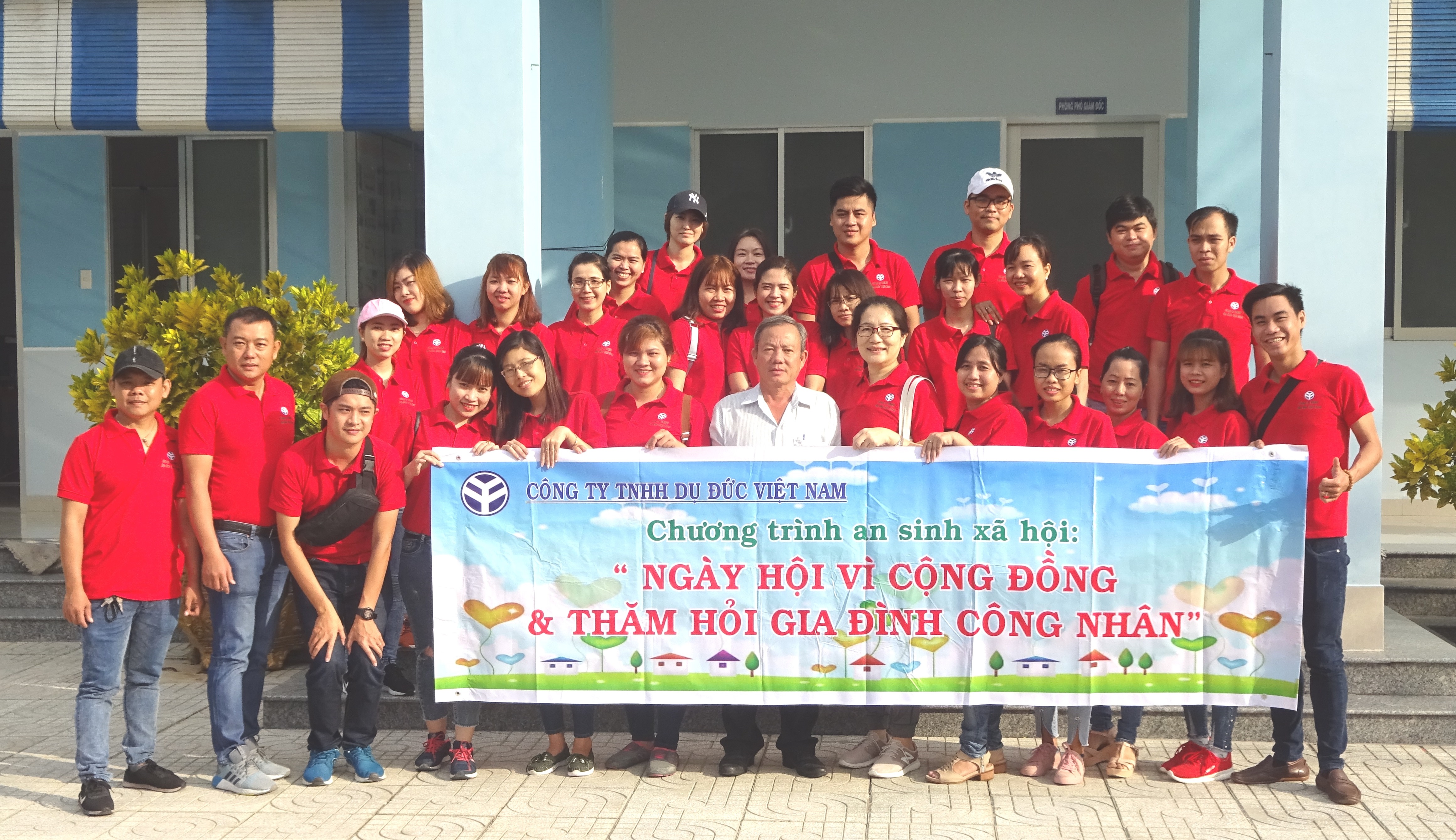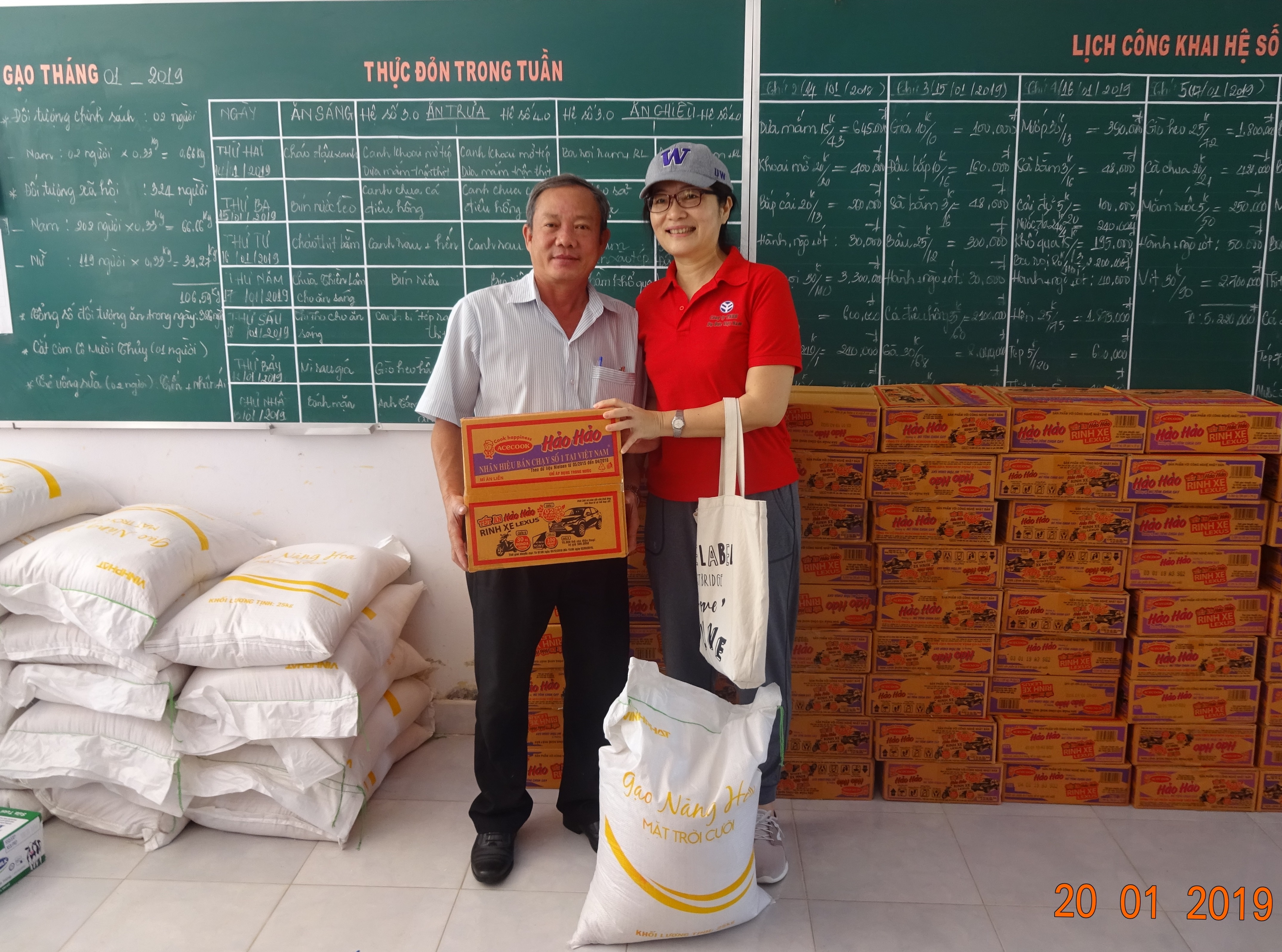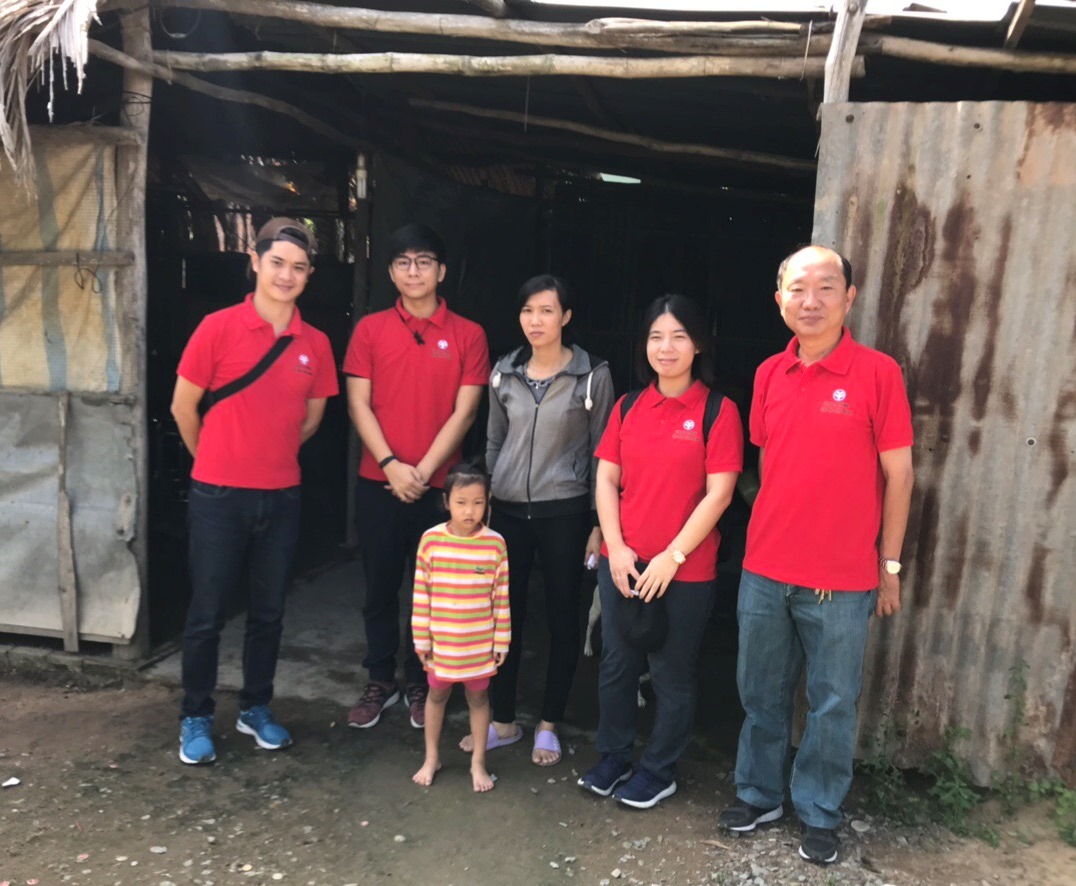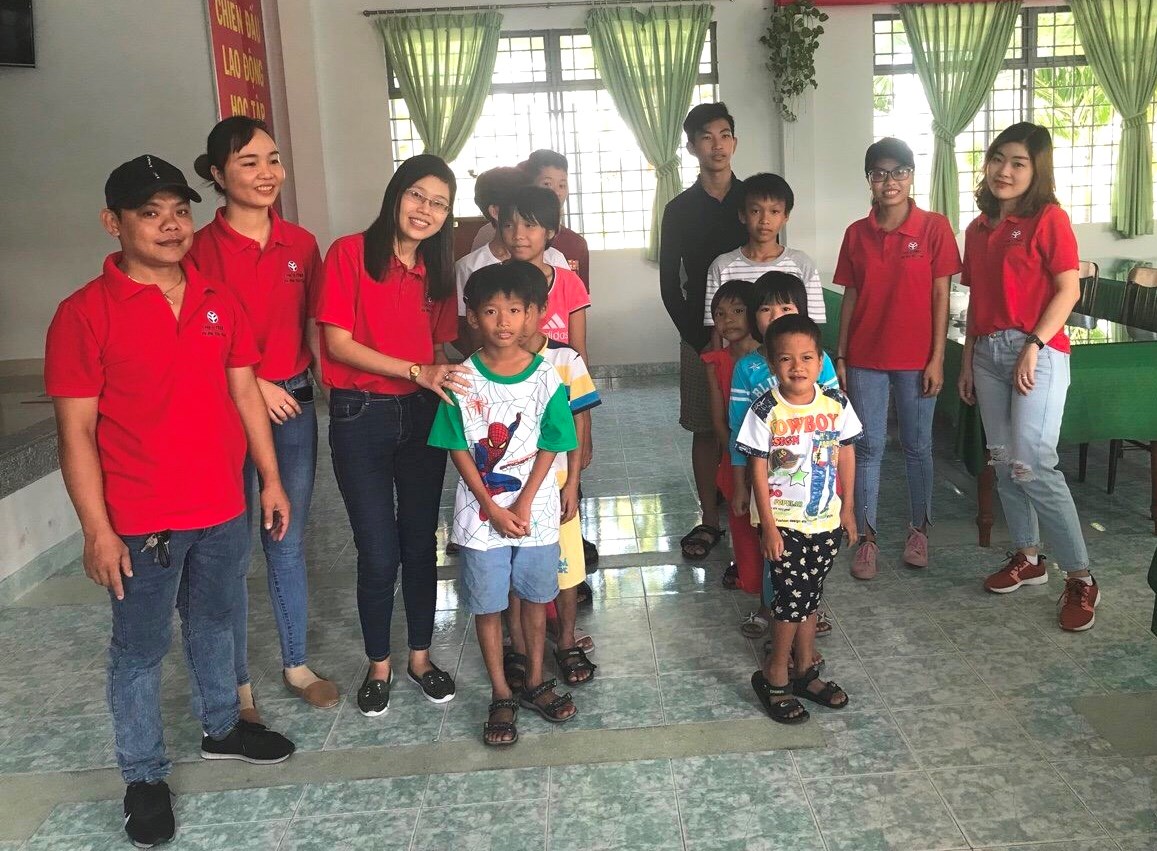 Pou Chen Group was granted FLA accreditation
Pou Chen Group joined the Fair Labor Association ("FLA") as a Participating Supplier in June 2011. The FLA and Pou Chen Group have worked closely to improve working conditions in the Group's facilities since its affiliation through independent external facility assessments and the accreditation process. Following the FLA's suggestions, the Group continues to invest in fulfilling its corporate social responsibilities, creating a friendly workplace, and establishing a reliable and well-functioning social compliance program, to comply with FLA and the Group's standards. In June 2018, FLA approved the accreditation of Pou Chen Group's social compliance program.
Pou Chen Group is a Participating Supplier of the Fair Labor Association ("FLA") and has committed to upholding the FLA Workplace Code of Conduct and Principles of Fair Labor and Responsible Souring throughout its entire supply chain. Click here to learn more.