History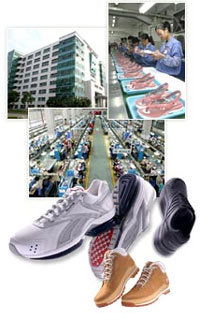 Pou Chen Corporation ("Pou Chen") was founded in September 1969 with canvas and rubber footwear as major products initially. Thereafter, Pou Chen focused on athletic and casual footwear manufacturing, and has also expanded into brand licensee business and sportswear retail business in recent years. Currently, Pou Chen has transformed itself to be an industrial holding company, its two core businesses, footwear and retail, are mainly operated by its subsidiaries and affiliates (collectively, "Pou Chen Group" or "the Group").
Core Business
Footwear Business
In the late 1970s, Pou Chen began to produce athletic footwear on an original equipment manufacturer (OEM) basis. With the enhanced product quality, integrated manufacturing process and improved R&D ability, Pou Chen, from a simply OEM, successfully turned to be an original design manufacturer (ODM) for major international brand name companies such as Nike, adidas, Asics, New Balance, Timberland and Salomon. Based on the risk diversification and cost saving consideration, Pou Chen via its major subsidiary, Yue Yuen Industrial (Holdings) Ltd. ("Yue Yuen"), expanded production bases to China, Indonesia, Vietnam, United States and Mexico from 1980s. In 2002, Pou Chen sold its interests in 67 companies engaged in footwear material manufacturing to Yue Yuen as part of the Group's strategy to vertically integrate its footwear business within Yue Yuen. Nowadays, the Group is the largest branded athletic and casual footwear manufacturer in the world.
Retail business
The Group began with brand licensee business in 1992 and later expanded into sportswear retail business. After years of exploration and expansion, the Group already established its extensive retail network in the Greater China region. To foster operational focus and enhance the whole valuation of the Group, the retail business and brand licensee business were spun off and separated listing under Yue Yuen's subsidiary Pou Sheng International (Holdings) Ltd. ("Pou Sheng") in 2008.
Looking Forward
For footwear business, the Group will continue to improve its R&D capability and to optimize production efficiency. The Group will also keep on cooperating with its branded companies to provide full-line products and value-added services. For retail business, the Group would like to further develop the brand name of "YYsports" by providing high standard customer service, product mix, promotions and advertisements. Looking ahead, the Group will focus on its core businesses, footwear and retail, through professional division in order to enhance valuation of the Group.