Expectations of Sustainable Development
Founded in 1969, Pou Chen Corporation adheres to its core value to go through different stages of development. From initial start-up, quickly growth-up to global expansion, the Company now is one of the leaders in the industry. Meanwhile, the Company has continued to greatly values corporate governance by respecting for shareholder rights, making efforts to increase the structure and capabilities of the Board, including the setup of independent director system, formulating "PCC's corporate governance best practice principles," "PCC's ethical corporate management best practice principles", "PCC's corporate social responsibility best practice principles", etc., to establish corporate governance frameworks so as to exercise corporate social responsibility, in order to further raise the Company's value and to strengthen its competitiveness.
Today, Pou Chen Corporation has become a total solution provider in footwear supply chain operating on a global basis; it recognizes it has a duty to implement good corporate social responsibility policy that proactively adapts to the ever changing environment so as to enhance social values among its stakeholders.
Pou Chen Corporation sees that corporate social responsibility as an integral part of the business and a necessity to ensure the sustainable development of the Company. Besides, the Company realizes the importance to communicate and cooperate with stakeholders i.e. government, upstream and downstream suppliers, community and employees, etc. so that each feels they are fairly treated and can look forward to the future.
Pou Chen Corporation treats sustainable development as its guideline; it will continue to focus on its core businesses, to treasure talents, to instate manufacturing excellence model, to elevate supply chain efficiency and innovativeness as to pay attention to energy saving, eco-friendly environment, social participation and charity. The Company will endeavor to fulfill its corporate social responsibility initiatives and to promote economic, environmental, and social advancement for purposes of sustainable development.
Corporate Social Responsibility Policy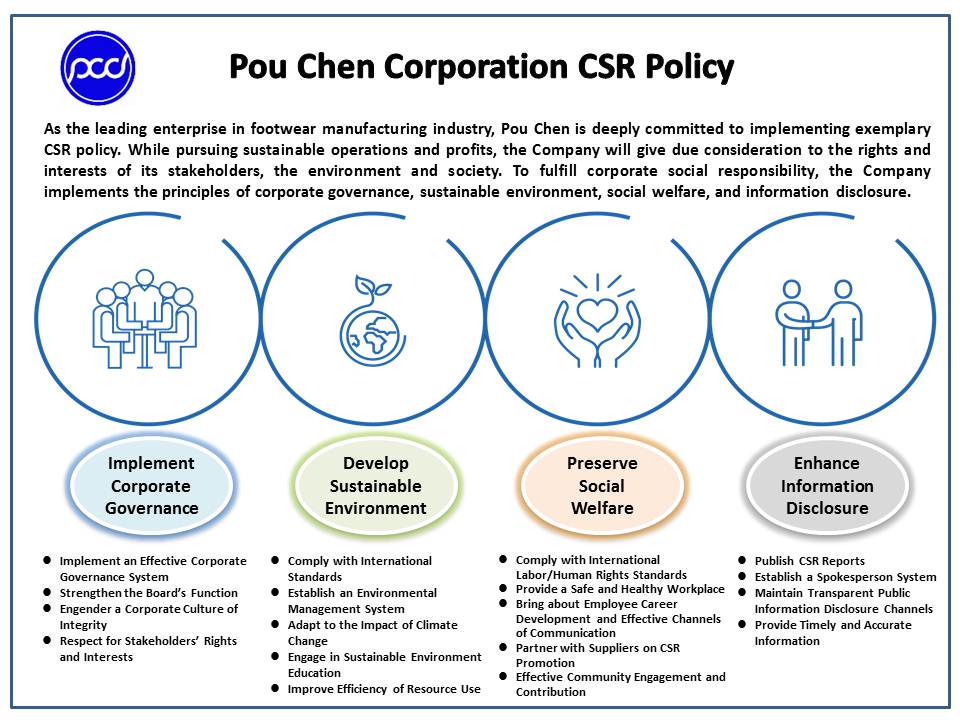 Code of Conduct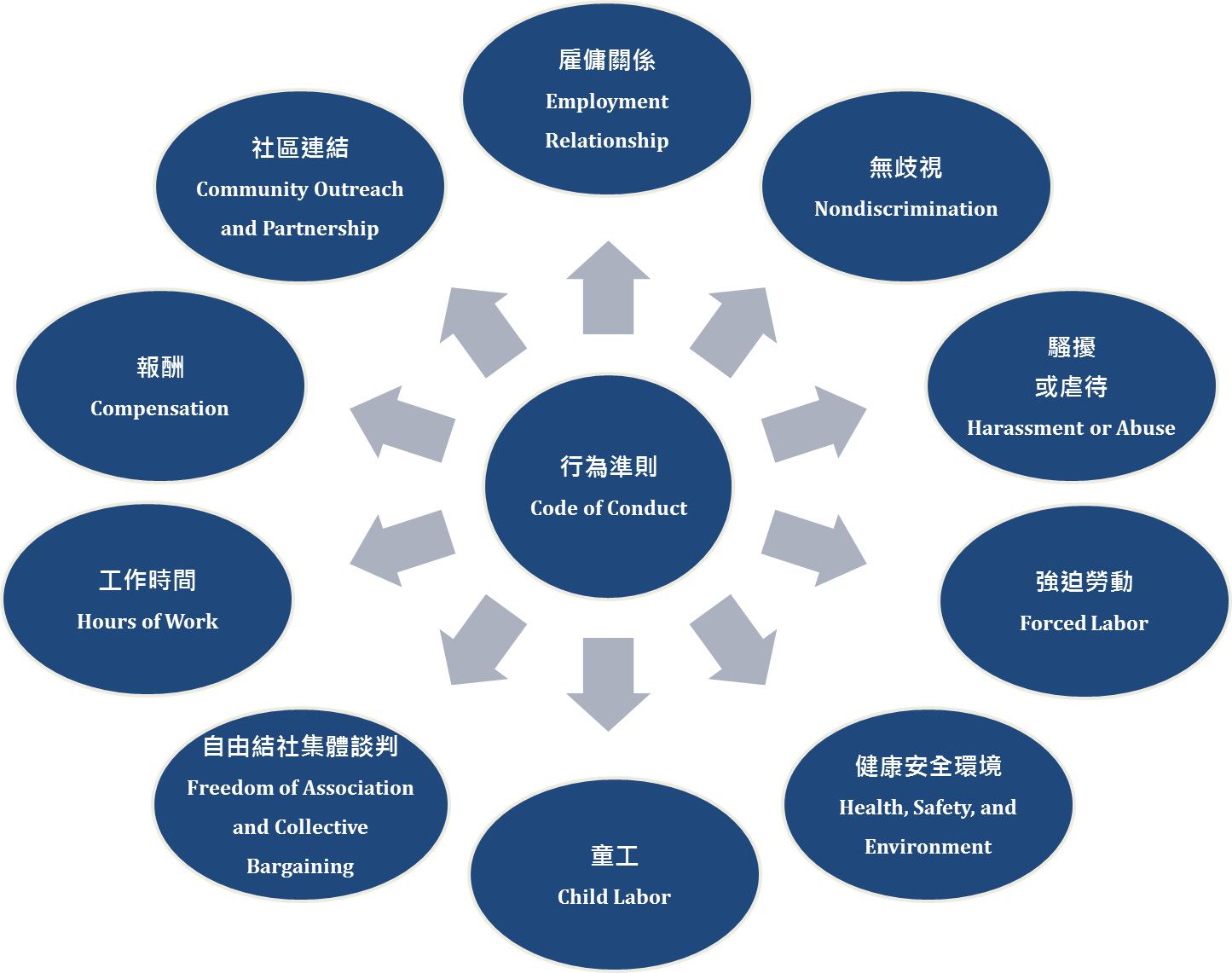 Organizational Structure for CSR Operations
Pou Chen has established the Sustainable Development Department responsible for affairs related to corporate social responsibility. The semi-annual performance meeting is used to examine and review the effectiveness of related CSR measures. Besides, the Sustainable Development Department periodically reports to the Board regarding the planning, progress and effectiveness of CSR as least once a year.

CSR Programs and Implementation
Pou Chen Corporation sets up its CSR implementation standards in accordance with the standards of Fair Labor Association. In addition to compliance with local regulations, the Company proactively cares about its employees' mental and physical health and development, for the purpose of its goal to create the best work place. Meanwhile, Pou Chen emphasizes environmental protection issues, performs energy conservation and carbon reduction, dedicates itself to investing in social capital and participates in activities of social public interests. The main aspects to be developed are as follows:
A. Increase the harmony between the Company and its employees, and care for development of the community.
(1) Make the internal systems in compliance with local regulations, protect employees' legal rights, and discover and
solve problems by internal examination.
Implementation result: In 2018, the Company utilizes third party resources to act as the chief auditor to provide an
external perspective as well as strengthen internal inspection mechanism. In 2018, a total of 35 factories were evaluated,
all of which had completed internal self-assessment relating to legal compliance. The Company's head office also
conducted completed audits for these factories, and rated based on audit results to identify the risks and track the
improvement.
(2) Enhance internal consensus and organizational identity through various activities; improve employee relations through
various communication channels, such as counseling rooms and symposiums, to get closer to employees, reduce the gap
between management and employees, and eliminate misunderstandings and conflicts.
Implementation result: All factories hold employee symposiums at least once quarterly. In 2018, a total of 756
symposiums have been held. Besides, factories have established multiple channels, such as counseling rooms, hotlines
and emails, etc. to help resolve complaints raised by employees and provide psychological counseling.
(3) Visit employees' family regularly to understand family status and life, and provide appropriate assistance when necessary;
care for stay-at-home children and minority groups in the community to help with the community development.
Implementation result: Accommodation and supplies are provided to employees, depending on the needs in each area.
Activities such as visiting community nursing homes, the disabled, orphanages, and volunteering to public service in the
community are also held. In 2018, a total of 1,265 times employees' households been visited.
B. Promote employees' safety and health, and lower environmental impact.
(1) Safety, health and fire control: Increase safety of working sites by purchasing safe machines and equipment and
implementing continuous improvement programs; eliminate potential fire disaster concerns by installing more fire-control
equipments, enhancing relevant training and promoting electronic equipment examinations.
Implementation result: The Company invested in fire-fighting equipment since 2014, and invested approximately US$12.3
million in 2018 for the construction of fire safety rectification in factories. Safer designs for the production equipment
have also been substantially improved and thorough safety checks and rectifications on highly dangerous equipment are
executed, gradually improving equipment safety levels.
(2) Environmental protection and energy conservation: Look up relevant regulations proactively, consult with the government
appropriately, examine and audit regularly, ensure factories' operation in accordance with the requirements by the
government and customers, cooperate with suppliers to develop energy-saving technologies, promote projects of energy
conservation in factories, and raise the energy conservation performance in factories.
Implementation result:The Company's head office implemented overall environmental audits for its factories in 2018. The
Company plans for promoting factory energy-saving projects through energy-saving equipment purchases, production
process/equipment energy-saving improvements, and daily management to implement energy efficiency. In 2018, the
accumulated quantity of energy-saving by making shoes decrease 2.58% as compared with 2016. An online energy
monitoring system has been gradually set up to track energy consumption in real time and to discover energy-saving
opportunities.